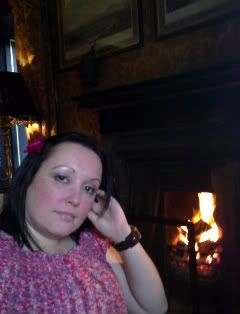 Prestonfield House Drinks Lounge
I celebrated my 40th birthday last week surrounded by my family. My mum asked if I felt forty to which I replied "No not really, cause in my heart and head I'm still five" hahahaha. To be honest, I think it has affected my mum more than it's affected me, she has been reminiscing all week. Today she text me to say that 40 years today she was returning home from the hospital with me and that I was 6lb, 2 and a half oz's. A very random text, still, it put a smile on my face.
Anyway enough waffling on to my
surprises and celebrations:
My Birthday treat possessed a touch of decadence, romance, drama and magic. It was a night that felt so special and one I will never forget. My partner decided, for my 40th birthday celebration we would dine in style at the
Rhubarb Restaurant
From the creator of the Witchery situated on the Royal Mile, near Edinburgh Castle, James Thomson's latest venture is the most opulent and prestigious to date and situated in the heart of Prestonfield House.
Entrance Hall and Reception
Entrance Hall
Drinks Lounge
My wonderful and very handsome O/H Paul. Looking very fine in his suit jacket and tie.
Striking a pose.
Me, I hate having my photo taken. Can you tell? I look like I'm going to beat Paul up with the camera, haha
Champers for the celebration.
A Little Restaurant Info:
"Exceptional cuisine is based on exceptional Scottish produce, much locally sourced from small artisan suppliers and inspirational wines come from an award-winning cellar. And the name? Rhubarb was inspired by the discovery that Prestonfield was the first estate in Scotland to propagate rhubarb in the eighteen century."
Monday Before My Birthday
Four days before Prestonfield House, my sister, mum and myself dined at One Ten Bar and Grill, Glasgow.
This picture really captures my sisters true character, we are both mad as hatters. In the next photo you will see my mums reaction.
My poor mum, not once did she tell us to grow up or behave. She was trully mortified by our behaviour and silliness. We don't get out very much lol
Birthday Presents
I was very spoiled for my birthday and received loads of lovely gifts. It's certainly a birthday I will remember for a very long time.
I received Wonders of The Universe book by Professor Brian Cox
The Broons Gairdenin Wisdoms book
I'm a huge Dave Grohl and Foo Fighters fan, you can hear this blasting out of the cars speakers as I drive by.
Silver necklace from Paul's parents.
Plus tons of clothes from Fat Face -I'm a huge fan of this brand. If I had the money I would buy the whole shop.
My Birthday Flowers
On the iPod
:
This week (I also received the Elbow and The Strokes album for my birthday)